Taylor Swift is an incredible artist with a great sense of fashion. She is an ever-evolving artist who is no stranger to self-reinvention, which reflects in her music and outfit ideas, from her cowboy boots and white dress to her Fearless era and her cottage-core aesthetic from the Folklore and Evermore albums to her iconic edge glam in the Red era.
Swift has overtly and subtly dressed the part and continues to break records in her looks, Eras Tour, and so much more. You've come to the right place if you like this global superstar's style. This guide will delve into iconic Taylor Swift outfits on the red carpets and some Miss Americana off-duty gear.
Top 5 Iconic Taylor Swift Outfits
Taylor Swift's outfit is both classic and ever-changing. It's so dynamic that entire fashion blogs are dedicated to her style. Swift's love for fashion is featured in many of her songs.
If you are one of Taylor Swift's fans looking to create a capsule wardrobe of iconic Taylor Swift pieces, look no further. Based on her red carpet and tour outfits, we've rounded up five signature pieces that every fan should look to have.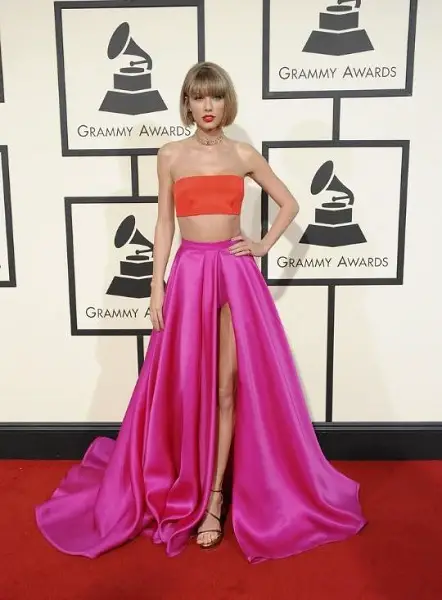 1. Taylor Swift Outfit by Stella McCartney
Taylor Swift is a big fan of Stella McCartney's collection. Swift has been spotted several times wearing Stella's outfits to red carpets and off guard on the street. The British fashion designer and Swift have been longtime friends.
The two are such close friends that Swift turned to Stella for outfit ideas that reflect her music's woodsy and ethereal vibe for her Evermore and Folklore albums.
On the Evermore album cover, the 30-year-old star stands with her back to the camera in a fresh braid and a single-breasted checked coat from Stella. And in another image, Swift has a faux shearling lined denim jacket by Stella, who eschews fur, leather, and skin in her animal-friendly clothes.
Stella has been Swift's go-to fashion designer of late. The duo linked up while Swift worked on the Lover album in 2019. Swift even mentioned Stella's name in the album lyrics to show how close they were.
The Grammy award winner also wore Stella clothing to the 2020 ACM Awards in September. She also wore the British fashion designer's outfit in the December 2020 issue of Rolling Stone, where she posed alongside the designer's father, music legend Paul McCartney.
Furthermore, in support of the Lover album, the pair collaborated on the "Stella x Taylor merchandise capsule." Now that partnering is evolving as longtime friends are creating a fashion collection of ready-to-wear and accessories.
And contrary to what you may have thought, the collection combines autumn wears for all genders.
Some of the merch included in the collection include water bottles, bodysuits, sweatshirts, skirts, t-shirts, bags, etc. This merch is adorned by fans globally with the Lover tracklist and lyrics like "Like a Tennessee Stella McCartney" from London Boy and "There's a Dazzling Haze" from the romantic title track.
2. Taylor Swift Outfit by Roberto Cavalli
Taylor Swift's last tour was five years ago – the Reputation Era, with over 2.9 million people in attendance. During that time, the singer released four albums, including the Grammy Award-winning album, Folklore.
Following her announcement of the postponement of the Lover Fest tour due to the pandemic, she is back with a banger and taking the stage for her Eras tour.
This tour was an impressive three-hour and fifteen-minute extravaganza that consisted of 44 songs that covered her illustrious career. Following this anticipated tour, Swift wore three custom couture capsules from the reputable Roberto Cavalli Atelier.
Roberto Cavalli is an Italian fashion designer known for his glamorous and stylish prints and association with music. Swift's collaboration with the Italian fashion designer in the Eras Tour began at the Grammy Awards in February.
One of the iconic dresses she wore on the tour was a custom light gold Mini Dress that featured a light gold flounce of briolette fringe embroidery all over her body. The dress also features a wide strap that fits a fitted sweetheart bustier.
Another iconic Taylor Swift dress she wore at the Eras tour is the custom black catsuit from Roberto Cavalli Couture. This dress featured a black 3-dimensional embroidered snake motif winding from top to bottom.
The snake is fully articulated with ruby red baguette, diamond crystal accents, and black bezels. Accompanying the dress is a matching combat boots featuring the same embroidery and base.  
The third dress Swift wore to the Eras tour is an embroidered rhombus top and mini skirt from the custom Roberto Cavalli Couture collection.
Metallic cylindrical embroidery and Swarovski crystals are over the coordinating bustier top and mini skirt, creating a rhombus motif in peridot, tangerine, and fuchsia. And completing the brilliance, briolette fringes were layered over for a fringe effect.
Inspired by the tour representation, the creative designer for Cavalli's brand, Fausto Puglisi, designed a capsule collection. This capsule collection to the brand's VIP clients like Swift.
The line features dozens of dresses decorated with precious Swarovski crystal, embroidery, and intricate prints, like trousers, mini dresses, plunging V-neckline dresses, maxi dresses, pajama suits, etc.
3. Taylor Swift Outfit by J Mendel
Taylor Swift did it again as she left fans nostalgic for her iconic dress moments for the 2013 Annual Grammy Awards. Swift took a Grecian look in a cream J. Mendel gown. J Mendel is a French atelier apprenticing under his father in his family's Paris atelier.
Dedicated to taking his ancestor's legacy of exceptional quality and uncompromising luxury to a broader stage, Mendel designed Swift's dress for the 2013 Grammy Awards with a slight slit at the front.
It also featured a plunging neckline and metallic details. And to elevate her look, Swift had a red lip and accessorized the gown with a braid running the top of her pinned-up hair.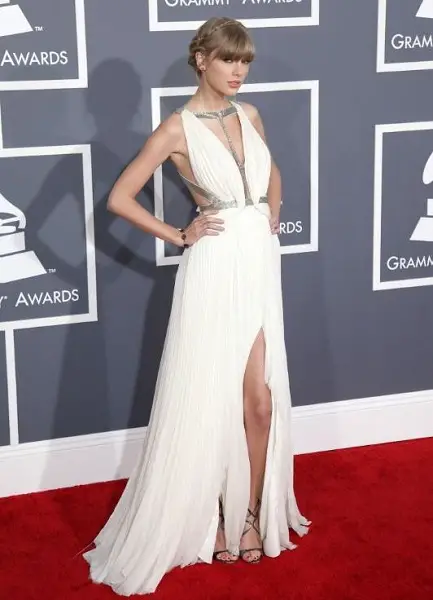 Also, for the 2013 Grammy Awards, Swift kept her jewelry dainty and simple, as the silver beaded straps did not need any ostentatious necklace. She wore friendship bracelets by Jaimin, an Ofra ring, and Jimmy Choo heels.
She also showed off her sparkly self-manicure on the red carpet, which took her 15 minutes. Swift's love for the J Mendel collection transcends past the 2013 Grammy Awards as she was also spotted at the Time 100 Gala wearing a flowy pastel pink and yellow gown.
Taylor Swift's gown at the Time 100 Gala is from J Mendel's Spring 2019 collection, with fans reminiscing about other iconic gowns she has worn, like the one on the cover of her Speak Now Era album and in the Love Story music video.
With this outfit, the singer wore jewelry by Lorraine Schwartz and shoes by Chloe Gosselin. Also, Jemma Muradian did her romantic updo hair with delicate braids, and artist Lorrie Turk did her fresh-faced makeup.
4. Taylor Swift Outfit by Elie Saab
Elie Saab is a Lebanese fashion designer with workshops in Lebanon, Milan, and Paris. Taylor Swift is a big fan of Saab's fashion style, and on several occasions, she has dazzled her fans in some of his fashion collections.
One of the iconic moments where Taylor Swift swept fans off their feet was during the 2015 Grammy Awards. Swift wore the custom Elie Saab halter dress to the Grammy red carpet. The singer paired the dazzling turquoise dress with bright colors, fuchsia shoes, and matching earrings to make the outfit bolder.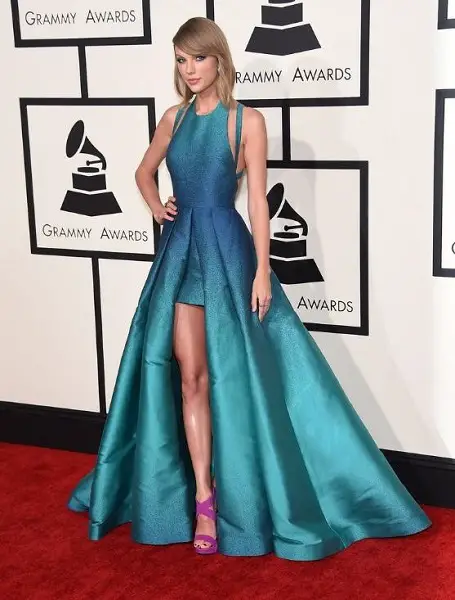 Also worth mentioning was in 2013 when Swift turned to the Middle East to dress for the 2013 Country Music Association Awards in Nashville. For this occasion, Swift chose a full skirt and a classic satin gown in a deep red that featured floral embellishment.
Another time Taylor Swift is seen in an Elie Saab outfit is during her Eras Tour in Tampa. She performed on stage in an Elie Saab haute couture. The Grammy award winner performed for over 70,000 fans in a 3-hour show at the Raymond James Stadium, where she ran through hits in her career like Bad Blood, Invisible String, and Lavender Haze.
During this world tour, the star wore a dreamy long gown that featured a ruched neckline and an intricate corset. This dress is from Elie Saab Haute Couture's Fall 2020 collection. This collection includes 36 styles as a message of hope to his hometown of Beirut in all its beautiful complexity.
Saab paints these dresses in watercolor and impressionistic hues like the subtle smell of jasmine in the spring. So, you can expect to find dresses in pale blue, gentle greens, blush pink, muted gold, and so on.
5. Taylor Swift Outfit in Tim McGraw Debut
Tim McGraw is not a fashion designer but an American country singer. Having Taylor Swift name one of her songs after him must have felt like an honor, although McGraw felt apprehensive about Swift naming her song after him at first.
In an interview, Tim McGraw said when he first heard the song, he thought it was good but then realized he had gotten to that age where people sing songs about him. But Taylor Swift meant it as a compliment, as it showed in her actions when they first met.
At the 2017 ACM Awards, where she performed, she said, "Hi, I'm Taylor," at the end of her performance. And since then, the duo have become close friends and even performed duets together.
And for the Taylor Swift Era debut, she wore a Jessica Jones dress to perform the acoustic version of her first breakout song, "Tim McGraw," from Midnights and 1989.
This iconic Taylor Swift dress was a simple magenta gown that made a great spring look. The dress is similar to what she wore to perform the acoustic Taylor's version of Night 2 but was in green.
If you are really into Taylor's Tim McGraw video look, you can recreate this iconic look in several ways. One of the advantages of this outfit is that you can wear it anywhere, even on the streets of New York.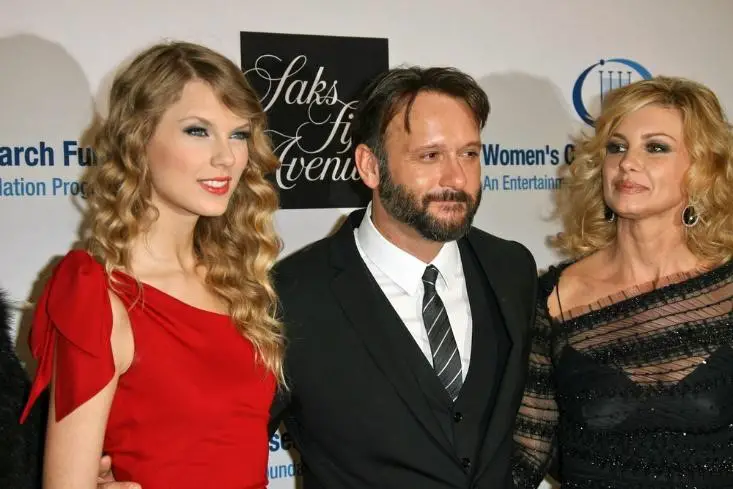 You're good to go with a simple sleeveless sheath dress, open-toe lace-up gladiator flat sandals, leather shoulder handbags, long-sleeve denim jacket jeans, and red lipstick.
Conclusion
Taylor Swift has made an appearance almost everywhere—from Las Vegas to the Met Gala and World Tour. Whether it be for an award, tour, performance, or regular visit, the Grammy award winner is everywhere with a fascinating fashion sense. Her fashion style has captivated the hearts of many.
So, whether you were curious about Swift's iconic looks or were interested in recreating some of them, these looks will surely take your fashion sense to a whole new dimension.
While some of the styles are on the simpler side, others are flashy. So, depending on your goal and the occasion, feel free to choose your favorite iconic Taylor Swift outfits.
Taylor Swift has one of the most forged autographs on the market today. Learn how to spot real and fake signatures to protect yourself!
Taylor Swift has millions of fans all over the world and many wonder if she responds to fan mail. The answer is yes!
What Are Digital Signatures? Arnold Schwarzenegger and Taylor Swift have both embraced a new kind of autograph—the digital signature. When it comes to signing documents, we've been signing digitally for a long time. However, when it comes to the world of celebrity autographs, they have been polarizing, to say the least. So what are they?…