People love Harry Melling for his acting abilities and his versatility as a performer. He is known for his ability to take on a wide range of roles and for his dedication to his craft. He has a talent for bringing characters to life on screen and stage, and for making them relatable and believable to audiences.

He is also known for his ability to transform his physical appearance for roles, as evidenced by the significant weight loss he underwent between Harry Potter films.

Many fans appreciate his dedication to his craft and his willingness to take on challenging roles. Additionally, He has a good reputation as a kind and humble person, which adds to his appeal to the audience.
To help make it easy for Harry Melling's fans to contact him, the following addresses, emails, and phone numbers have been compiled to give his fans the best and most up-to-date resources for contacting him directly or through his representatives.
How to Contact Harry Melling
Every day, thousands of people contact the celebrities, athletes, and public figures they admire most. Some want to request donations for charity, some seek new business opportunities, but most just want to send fan mail.

That's because fan mail is a great way to express your support and admiration. Since Harry Melling is such a huge star, there's no doubt that The Old Guard actor gets his fair share of messages and well wishes.
Harry Melling does have a good history of responding to fan mail. You can reach out to him by using this simple fan mail template to get started. If you're having trouble expressing yourself, you can also generate a letter with AI! Then just try reaching out via the addresses below. Good luck!
Talent Agent
Talent Agent (Voice)
Curtis Brown Group
Cunard House
15 Regent Street
London SW1Y 4LR
UK
+44 20 7393 4400 phone
+44 20 7393 4401 fax
info@curtisbrown.co.uk

Representative:
Sophie Holden
+44 20 7393 4477 phone
holdenoffice@curtisbrown.co.uk
Paradigm Talent Agency
700 N San Vicente Blvd
Suite G820
West Hollywood, CA 90069
US
+1 310 288 8000 phone
+1 310 288 2000 fax

Representative:
Stephanie Ramsey
More Ways to Contact Harry Melling
If you still need more email addresses, phone numbers, and mailing addresses in order to reach the Harry Potter actor then look no further. Melling has more than one agency looking out for his interests. Try reaching him at the following representatives.
Legal Representative
Publicist
Goodman, Genow, Schenkman, Smelkinson & Christopher
9665 Wilshire Blvd
5th Floor
Beverly Hills, CA 90212
USA
+1 310 385 9300 phone
+1 310 385 9333 fax

Representatives:
Lucy Popkin
lucy@ggssc.com
ID Public Relations

Representatives:
Julia Eckstein
323-822-4876 phone
jeckstein@id-pr.com
Lindsay Krug
+1 323 822 4884 phone
lkrug@id-pr.com
Rachel Karten
+1 323 822 4804 phone
rkarten@id-pr.com
Scott Braun
+1 212 334 0333 phone
sbraun@id-pr.com
DM Harry Melling on Social Media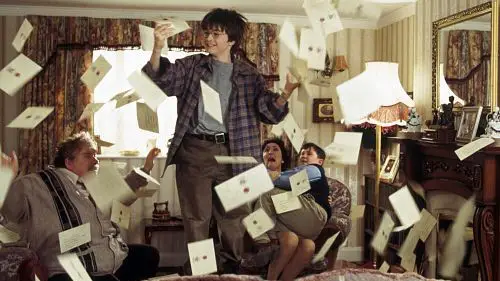 A lot of fans are more comfortable DMing than they are with sending a letter in the mail or making a phone call. It's a strategy that can work as there are a number of celebrities that have been known to respond to DMs. Try reaching Melling on his official social media accounts.
About Harry Melling
Harry Melling is an English actor known for his role as Dudley Dursley in the Harry Potter film series and for his performance as Harry Beltik in the Netflix series The Queen's Gambit. He began his acting career in stage productions and made his playwrighting debut in 2014 with his one-man show Peddling. Melling lost a significant amount of weight between his last appearance in Harry Potter and the Deathly Hallows – Part 1 and had to wear a fat suit to reprise his role as Dudley. He has also appeared in other films and television shows such as The Ballad of Buster Scruggs, The Devil All the Time, and The Pale Blue Eye. His grandfather was actor Patrick Troughton.
Melling has also appeared in several notable films, such as The Lost City of Z (2016) where he played William Barclay, The Current War (2017) as Benjamin Vale, and The Ballad of Buster Scruggs (2018) where he played Harrison. New Yorker film critic Anthony Lane praised Melling's performance in the Coen brothers' film, calling him "beautifully played" and "haunted by a scattering of sights and sounds."
In 2020, Melling played the role of Roy Laferty, an evangelical preacher, in the Netflix thriller The Devil All The Time. That same year, he appeared in the Netflix series drama The Queen's Gambit in which he plays Harry Beltik, a friend and one of the main competitors of the protagonist, Beth Harmon, in Kentucky. He received positive reviews for his portrayal of Harry Beltik. In 2022, he played a young Edgar Allen Poe in the film The Pale Blue Eye, directed by Scott Cooper.
Melling continues to be an active actor in both stage and screen productions, and has established himself as a versatile performer capable of taking on a wide range of roles. His career is one to watch, as he continues to impress audiences with his performances and explore new opportunities in the entertainment industry.
FAQs
Who is Harry Melling's manager?
Harry Melling's agent is Curtis Brown Group's Sophie Holden. You can contact Melling at
holdenoffice@curtisbrown.co.uk.
What is Harry Melling's fan mail address?
You can write to Harry Melling via Curtis Brown Group at:
Cunard House
15 Regent Street
London SW1Y 4LR
UK
Get Updated Celebrity Contact Info First!
Sign up for the Tales From The Collection newsletter and be the first to know when new contact info is added for celebrities like Brianne Howey, Suzanna Son, and Lucy Boynton!