GalaxyCon Austin is not just another convention; it's a universe of entertainment that brings together fans, creators, and celebrities from all corners of the pop culture world. Whether you're a die-hard comic book enthusiast, an anime aficionado, or someone who simply loves to immerse themselves in the world of movies and TV shows, GalaxyCon Austin promises an experience like no other.
With a star-studded lineup of guests, a plethora of special events, and an array of attractions that cater to every kind of fan, this event is a must-attend for anyone who calls themselves a geek at heart. In this in-depth guide, we'll take you on a journey through everything GalaxyCon Austin has to offer, ensuring you don't miss out on any of the action.
GalaxyCon Austin's Star-Studded Celebrity Lineup
GalaxyCon Austin boasts an impressive array of celebrities that fans have come to adore over the years. From the charismatic David Boreanaz, known for his roles in "Buffy the Vampire Slayer" and "Bones," to the versatile Andy Serkis, the genius behind Gollum in "The Lord of the Rings" and Caesar in "Planet of the Apes," the lineup is nothing short of spectacular. Fans of the Marvel universe will be thrilled to meet Charlie Cox, the face of Daredevil, and Krysten Ritter, our beloved Jessica Jones. Not to forget the legendary Mike Tyson, who has left an indelible mark both in the boxing ring and in popular culture.
What Fans Can Expect
Meeting a celebrity can be an exhilarating experience. At GalaxyCon Austin, fans can expect:
Autograph Sessions: A chance to get your favorite memorabilia signed by the stars themselves.
Photo Ops: Ever dreamt of having a picture with your favorite celebrity? This is your chance!
Q&A Panels: Listen to celebrities share anecdotes, behind-the-scenes stories, and answer fan questions.
Pro Tips for Meeting Celebs at Cons
Be Respectful: Always remember that celebrities are people too. Approach them with kindness and respect.
Prepare in Advance: If you're looking to get an autograph, have your items ready. Also, think of questions you might want to ask during Q&A sessions.
Manage Your Time: Celebrities often have tight schedules at conventions. Make sure you check the timings for photo ops, autograph sessions, and panels.
Stay Calm: It's natural to get star-struck, but try to stay calm and composed. This will make the experience more enjoyable for both you and the celebrity.
Follow the Rules: Conventions often have specific guidelines for interacting with celebrities. Make sure you're aware of them.
GalaxyCon's Guest List
One of the most anticipated aspects of GalaxyCon Austin is undoubtedly its star-studded guest lineup. This year, the convention has outdone itself, bringing together a diverse array of talent from the realms of film, television, voice acting, and more. Whether you're a fan of blockbuster movies, cult TV shows, iconic voice characters, or the creative minds behind your favorite comics, there's someone for everyone. Below is a comprehensive table showcasing all the guests you can expect to see at GalaxyCon Austin. Dive in and see which of your favorite stars will be in attendance!
| Celebrities | Voice Actors | Featured Creators | Literary & Industry | Pro Wrestlers |
| --- | --- | --- | --- | --- |
| David Boreanaz | Patricia Summersett | Cory Smith | Dave Schrader | Ric Flair |
| Andy Serkis | Charles Martinet | Nick Robles | Tim Jacobus | Leva Bates |
| Mike Tyson | Tara Strong | Liana Kangas | Travis Langley | Mick Foley |
| Charlie Cox | Kathleen Herles | Tate Brombal | Joe Wos | Kevin Nash |
| Krysten Ritter | Chris Sarandon | Roge Antonio | Guy Hutchinson | |
| Vincent D'Onofrio | Ken Page | Christopher Sprouse | | |
| Ming-Na Wen | Jodi Benson | Fábio Moon | | |
| Stephen Amell | Roger Craig Smith | Cully Hamner | | |
| Emily Bett Rickards | Colleen O'Shaughnessey | Tula Lotay | | |
| Colin O'Donoghue | Alessandro Juliani | Roy Miranda | | |
| William Shatner | Brad Swaile | Robbi Rodriguez | | |
| Walter Koenig | Brian Drummond | Rafael Albuquerque | | |
| LeVar Burton | Shannon Chan-Kent | Megan Hutchison | | |
| Jonathan Frakes | Christopher Sabat | Gustavo Duarte | | |
| Gates McFadden | Sarah Natochenny | Martin Simmonds | | |
| Armin Shimerman | Ryan Colt Levy | Carla Cohen | | |
| Terry Farrell | Sarah Wiedenheft | Jeff Edwards | | |
| Wil Wheaton | Suzie Yeung | Lucio Parrillo | | |
| Giancarlo Esposito | Reagan Murdock | InHyuk Lee | | |
| Evan Evagora | Nadji Jeter | Marguerite Sauvage | | |
| Terry Matalas | Cristina Vee | Mirka Andolfo | | |
| Harvey Guillen | Ashley Eckstein | Steve Orlando | | |
| Alessandro Juliani | Matt Lanter | Yanick Paquette | | |
| Austin St. John | James Arnold Taylor | Josie Devora | | |
| Carey Jones | Monica Rial | Rodney Barnes | | |
| Brec Bassinger | Justin Briner | Jeremy Clark | | |
| John Wesley Shipp | Aaron Dismuke | Kyle Higgins | | |
| Ross Marquand | Brittney Karbowski | Simon Bisley | | |
| Danielle Fishel | David Matranga | Denys Cowan | | |
| Matthew Lawrence | Luci Christian | Tab Murphy | | |
| Will Friedle | Emily Neves | Bob Hall | | |
| Rider Strong | Zach Aguilar | Ben Templesmith | | |
| Trina McGee | Abby Trott | D.G. Chichester | | |
| Tate Donovan | Elizabeth Maxwell | Dan DiDio | | |
| Barry Bostwick | Jason Liebrecht | John Beatty | | |
| Dave Foley | Aleks Le | Rhiannon Owens | | |
| Steve Burns | Marty Grabstein | Mike Choi | | |
| Steve Whitmire | Dana Snyder | Tana Ford | | |
| Mike Quinn | Megan Shipman | Mark Waid | | |
| Kevin Clash | Natalie Van Sistine | Howard Chaykin | | |
| Laura Banks | | Brett Breeding | | |
| Mark Pillow | | Scott Hepburn | | |
| | | Jim Shooter | | |
| | | Dexter Vines | | |
Photo Op and Autograph Price List
While the thrill of seeing your favorite celebrities in person is unparalleled, GalaxyCon Austin takes the experience a notch higher by offering fans the opportunity to collect autographs and pose for photos with them. If you've ever wondered how much it would cost to get that cherished poster signed or snap a memorable picture with a beloved star, we've got you covered.
Below is a detailed table outlining the prices for autographs and photo ops with the various guests attending the convention. Plan ahead and make the most of these once-in-a-lifetime interactions!
| Guest Name | Autograph Price | Photo Op Price |
| --- | --- | --- |
| Andy Serkis | $100 | Not specified |
| David Boreanaz | $90 | $110 (Saturday) |
| Charlie Cox | $100 | Not specified |
| Krysten Ritter | $70 | $80 (Sat & Sun) |
| Vincent D'Onofrio | $70 | Not specified |
| Giancarlo Esposito | $80 | Not specified |
| William Shatner | $120 | Not specified |
| Colin O'Donoghue | $60 | $70 (Sat & Sun) |
| Steve Burns | $50 | Not specified |
| Ashley Eckstein | Not specified | $120 (Fri, Sat & Sun) |
| Matt Lanter | Not specified | $80 (Fri, Sat & Sun) |
| James Arnold Taylor | Not specified | $80 (Fri, Sat & Sun) |
| Chris Sarandon | $60 (Fri, Sat & Sun) | Not specified |
| Ken Page | $60 (Fri, Sat & Sun) | Not specified |
| Jodi Benson | $90 (Fri, Sat & Sun) | Not specified |
| Roger Craig Smith | Not specified | Not specified |
| Colleen O'Shaughnessey | Not specified | Not specified |
| Austin St. John | Not specified | $80 (Fri, Sat & Sun) |
| Brec Bassinger | Not specified | $70 (Sat & Sun) |
Dive into the Special Events at GalaxyCon Austin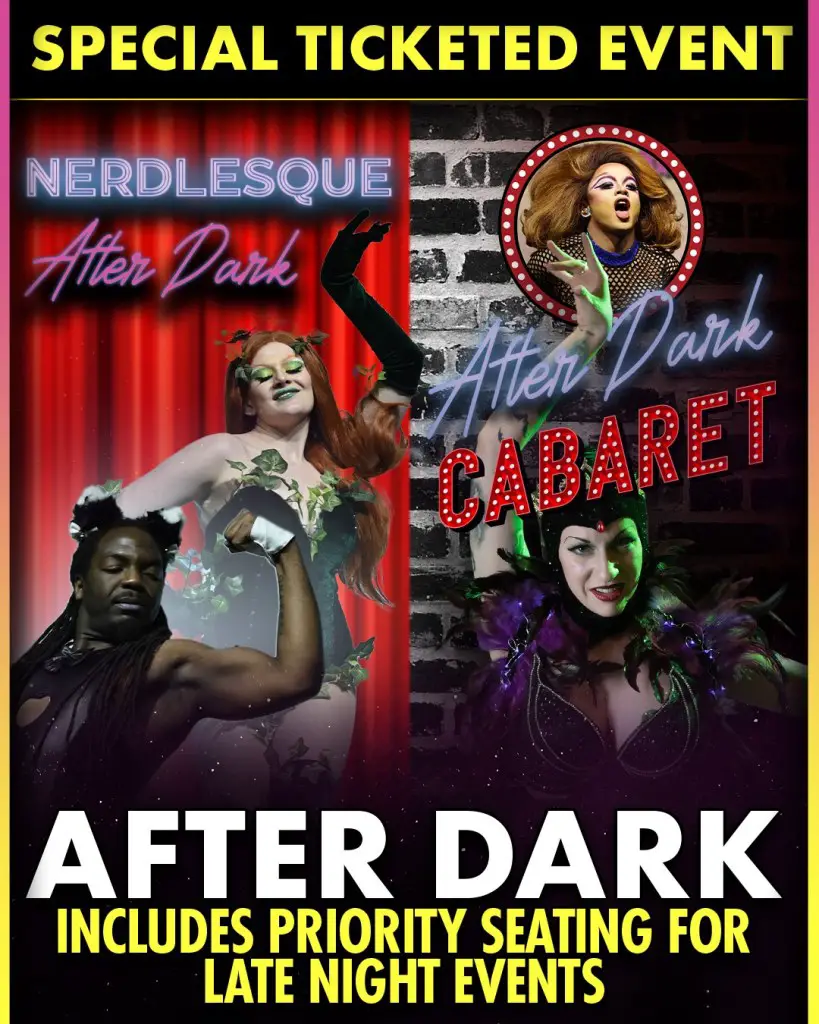 GalaxyCon Austin is not just about meeting celebrities and exploring the exhibit hall; it's also a hub for unique and unforgettable events that cater to a wide range of interests. Whether you're a night owl looking for some after-hours entertainment or a comic book enthusiast eager to learn from the best, GalaxyCon has something special in store for you.
GalaxyCon After Dark Showcase Experience
As the sun sets, GalaxyCon truly comes alive with its "After Dark Showcase Experience." This late-night extravaganza on the main stage promises a mix of entertainment that's both quirky and captivating. From the sultry moves of "Nerdlesque" dancers to the creativity on display at the "Late Night Costume Contest," there's never a dull moment. And for those looking for a blend of comedy and music, the "GalaxyCon Cabaret" is sure to be a hit.
Dana Snyder's Drunk on Disney Party
For the adults in the room, Dana Snyder hosts an exclusive "Drunk on Disney" party. It's a celebration of all things Disney, but with a twist. Attendees can look forward to special merchandise and perhaps a few laughs as they reminisce about their favorite Disney moments, all while enjoying a drink or two.
Rocky Horror Experience
Time warp into the world of the cult classic, "The Rocky Horror Picture Show." GalaxyCon Austin offers fans a unique "Rocky Horror Experience" complete with a special performance. What's more, attendees can avail of priority seating and even get a chance to meet and greet the cast. So, don your best Dr. Frank-N-Furter or Magenta outfit and join the fun!
Comic Book U with Howard Chaykin & Mark Waid
For those who have a deep appreciation for the art of comic book creation, "Comic Book U" is a must-attend. Join industry legends Howard Chaykin and Mark Waid as they delve into the intricacies of comic book storytelling, sharing their experiences and insights from their illustrious careers.
The Lineage Puppetry Sessions with Steve Whitmire
Puppetry is an art form that has captivated audiences for generations. At GalaxyCon Austin, fans have the unique opportunity to attend "The Lineage Puppetry Sessions" hosted by Steve Whitmire. Known for his work with the Muppets, Whitmire will offer a hands-on workshop, teaching attendees the nuances of 'Muppet-style' puppetry.
In conclusion, the special events at GalaxyCon Austin ensure that every moment spent at the convention is packed with excitement, learning, and memorable experiences. Make sure to check the schedule and book your spots for these events in advance!
GalaxyCon Austin Attractions: A World of Wonders Awaits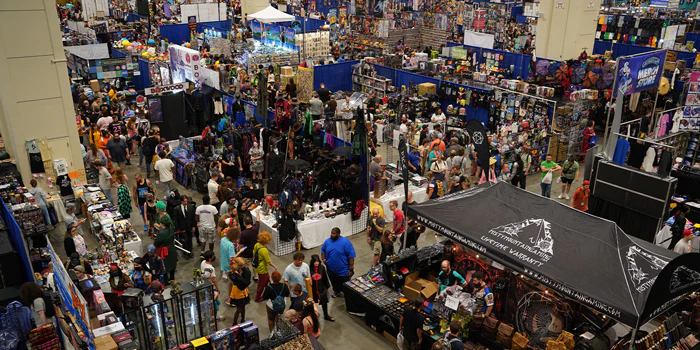 Exhibit Hall
A treasure trove for fans, the Exhibit Hall is where you can find exclusive merchandise, custom art pieces, and unique collectibles. It's a shopper's paradise for every fandom.
Costume and Cosplay Contests
Show off your creativity and craftsmanship in the costume and cosplay contests. Whether you're competing or just watching, it's a visual treat to see the array of characters brought to life.
Anime Panels, Events, and Games
Anime enthusiasts, rejoice! With over 100 hours of dedicated anime programming, dive deep into discussions, screenings, and games centered around your favorite anime and manga.
Comic Book & Creator Panels & Workshops
Learn from the best in the business. Attend panels and workshops where comic book creators share their expertise, techniques, and experiences.
Tabletop Gaming & Video Gaming
For the gamers out there, GalaxyCon offers a plethora of gaming activities. Whether you're into traditional tabletop games or the latest video games, there's something for everyone.
Fan Groups
Find your tribe at GalaxyCon Austin. Connect with fan groups that share your passion, be it for a particular show, movie, or genre.
Kid's Zone
GalaxyCon is a family-friendly event, and the Kid's Zone ensures the youngest fans have a blast. With activities and events curated especially for them, it's fun galore for the little ones.
Special Attractions
For those looking for something a bit different, GalaxyCon's special attractions are a must-visit. From movie car photo ops to the chance to meet iconic characters like Stormtroopers, these unique experiences add an extra layer of excitement to the convention.