This page serves as a repository for newsletters and messages from Alexandria Ocasio Cortez or her campaign but is not comprehensive. These messages are sent by her campaign to supporters. I will post more when they are released. If you appreciate this archive, you may also be interested in seeing the one I created for Arnold Schwarzenegger or Maya Hawke.
AOC News Letters 2019 to Present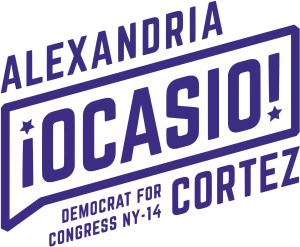 No-fly zones: explained – 22MAR2022
Reader,
Last year, each Representative in Congress was given the chance to request funding for up to ten projects in their community for 2022. Alexandria and our team spent months working with leaders and neighbors in NY-14 to put forward the best eligible projects. And then, as with so many things in Congress, the effort seemed to stall.
But last week, after months of advocacy, all ten of the projects we submitted passed the House and were signed into law by President Biden! 
This funding will create one of the first Green New Deal workforce training programs in the country! It will also support youth violence interventions, affordable housing access, training for union jobs in home healthcare, and much more. 
Here are just a few of the projects:
Offshore Wind Workforce Development
With these funds, SUNY Maritime will train 300 students for high-wage earning jobs in New York's offshore wind industry. 
This project is one of the first Green New Deal workforce training projects and a prime example of the type of programs that Alexandria has pushed for throughout her time in Congress. It's proof that uniting jobs and climate justice is not only possible, but necessary. 
Stand Up to Violence Mental Health Services Expansion
If we want to reduce violent crime and lower the number of people in our jails, the answer is to stop building more of them and instead, build more hospitals and get people mental health care, overall health care, and employment. We must support communities, not throw them away. 
Right here in The Bronx, our community developed a successful approach to reducing violence. It's called Stand Up to Violence (SUV), a cutting edge program run out of Jacobi Hospital (a PUBLIC hospital!), and it is hands down one of the most effective treatments we've seen to reduce incidents of violence like shootings and stabbings.
We're excited to share that Jacobi Hospital will receive funding to add mental health services under the umbrella of their Stand Up to Violence (SUV) program.
---
Alexandria made a tremendous effort to get the word out about this funding opportunity and reached out to eligible groups to discuss possible projects and field questions.
She worked to ensure that the selection process was equitable, inclusive, and in line with our collective goals to advance justice and improve the lives of all people – especially the most vulnerable. It's one of the many reasons why we need to re-elect Alexandria to Congress this November. 
If you'd like to support our efforts to not only re-elect Alexandria, but also build our movement for community-driven solutions like these listed above, please chip in to our campaign today.
Thank you for reading and supporting all of our work for justice. 
Team AOC