Rebecca Zamolo is a YouTuber who first started her channel in 2018. It was wildly successful as she has amassed about 13 million subscribers!

Her channel primarily consists of videos pertaining to challenges, DIY projects, and other various incidents that occur in her day-to-day life. In addition to YouTube, Zamolo is also a member of the Game Master Network, which is a group of YouTubers who collaborate on various video projects.

Some of her most popular videos include "QUEEN'S BALL Bridgerton Challenge", "Giant Incredibles Game in Real Life to Save Game Master!", and "24 Hours inside a Dollhouse Escape Room in Real Life!".
How to Send Fan Mail to Rebecca Zamolo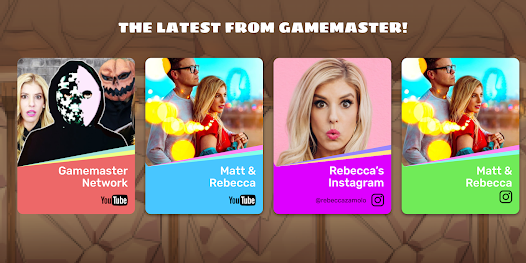 Regardless of how you've come to know her, it's likely that Rebecca Zamolo's work has had an impact on you in some way or another. If you would like to send fan mail to one of the most beloved influencers on social media, whether it's to simply send a message of thanks or perhaps request an autograph through the mail, then the process is pretty simple. Like many of the top celebrities known for responding to fan mail Rebecca is actually quite good at responding to fan mail.

If you would like to reach out to her, and maybe have your letter or package opened on her YouTube channel, then you can use this simple fan mail template to get started. Then just try reaching out via the addresses below.
Official Fan Mail Address
Rebecca Zamolo and her husband Matthew Yoakum (AKA Matt Slays) revealed the kinds of fan mail they get. It included everything from letters, to gifts. It's a huge volume of stuff, so they certainly can't go through it all. However, the video they posted is proof positive that they at least read some of it! The address they provided their fans is below.

Email Addresses
If email is more your thing then you're in luck! Rebecca Zamolo has made it easy for fans to reach out to her via email. On her YouTube channel's about page, she shared her business email address. This is more for professional correspondence though. She also maintains an email address specifically for her webpage.
Business Addresses
Rebecca Zamolo and Matthew Yoakum founded YZ Productions, Inc. on January 28th, 2014. According to public records, Matt is listed as the CEO and Rebecca as the Secretary, CFO, and Director. You can try reaching out via her business address or by sending her a message via her shop's contact form.
Send Rebecca a DM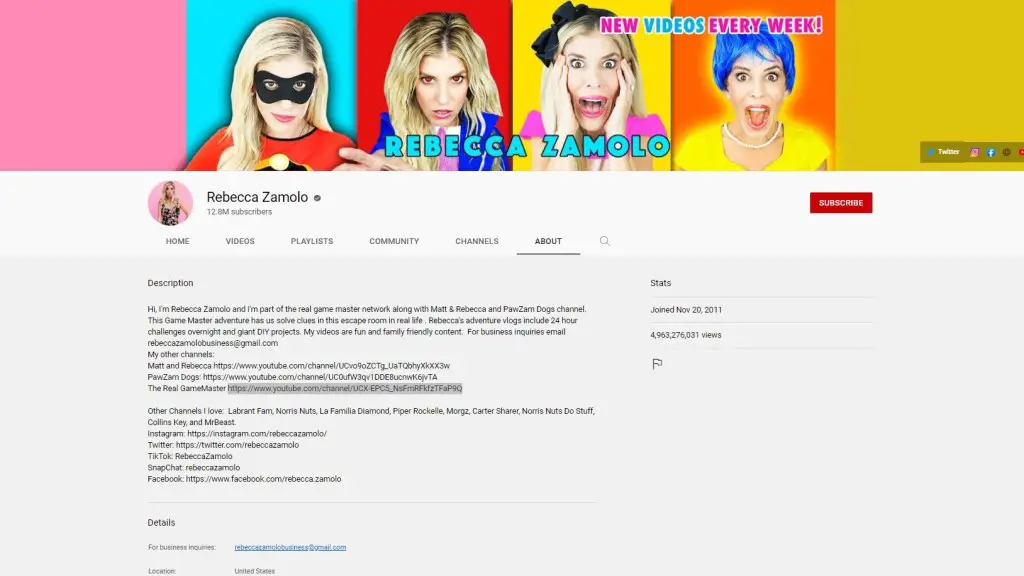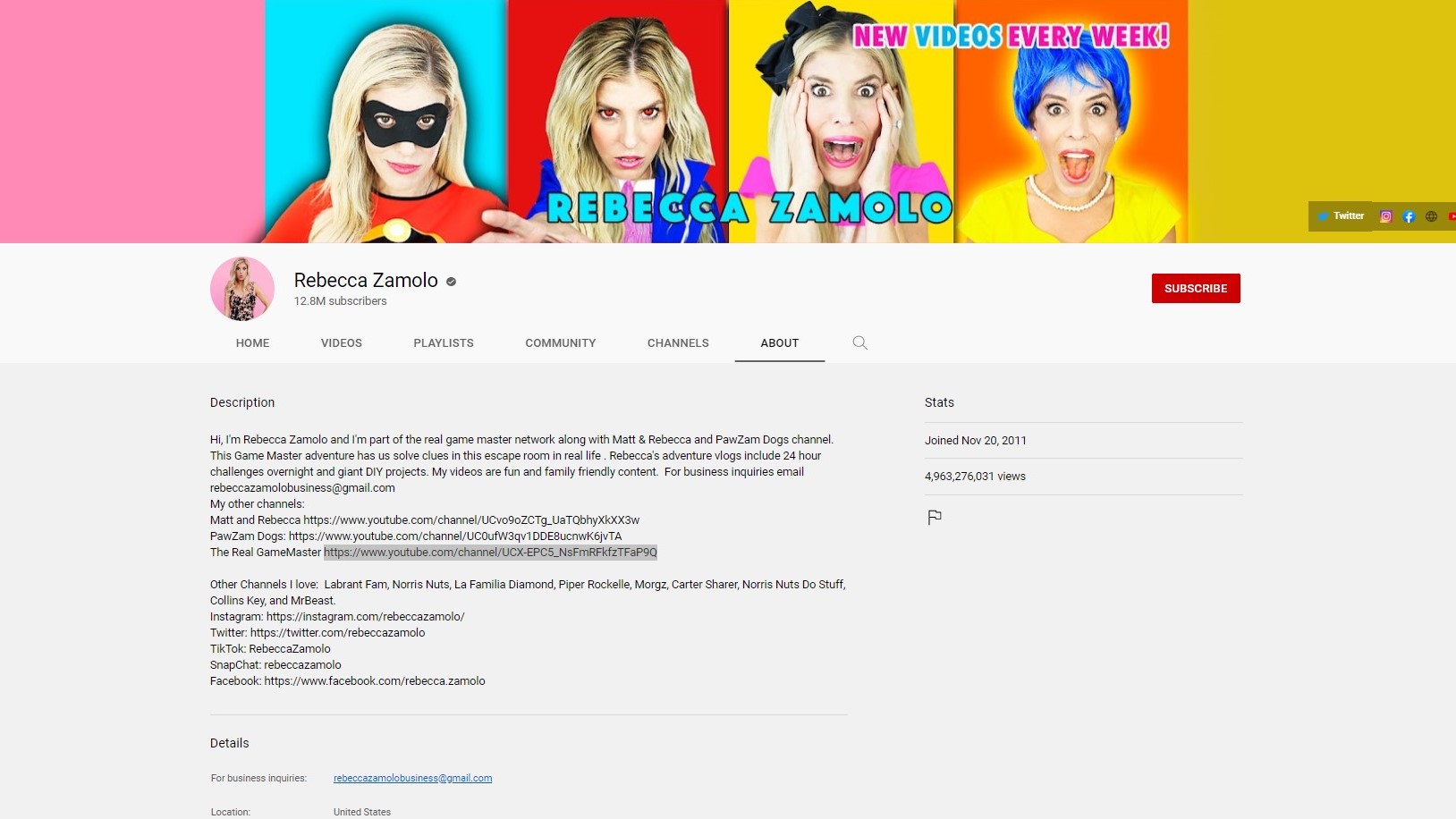 Some celebrities do in fact respond to DMs from fans. Since Rebecca Zamolo is so well known for her online presence, it's natural that many fans would want to contact her by sending a message. Give it a shot by DM'ing her through one of her social media accounts. The following are listed as Rebecca's official Social Media profiles on her YouTube channel.
About Rebecca Zamolo
Rebecca Zamolo is a renowned American YouTuber, TikTok influencer, and social media personality who rose to fame through her engaging and creative content. Born on September 28, 1982, Zamolo has captured the hearts of millions with her entertaining and entertaining videos, making her one of the most popular content creators on the internet.
Internet career Zamolo began her internet career in 2009 when she started uploading videos to her personal YouTube channel. Her channel initially focused on gymnastics and dance videos, but as she gained popularity, she began to incorporate more challenges, DIYs, and other engaging content. Over time, her channel grew in size and reach, attracting millions of followers from all over the world.
In 2018, Zamolo and her husband Matt Yoakum created a new YouTube channel, Matt and Rebecca, which focused on challenging and entertaining videos. The channel has since become one of the most popular on the platform, with millions of followers tuning in every day to see what new content the couple has in store.
Zamolo's most significant internet project to date is the Game Master Network, a YouTube channel and franchise that was launched in 2018. The channel follows a storyline of a detective series where Zamolo and Yoakum must solve clues and defeat the "YouTube Hacker" to save the day. The channel has been praised for its unique and captivating storyline, making it one of the most popular YouTube channels on the internet. In 2020, a spin-off video game was released based on the series, and a subscription service was also made available, providing fans with exclusive content and behind-the-scenes access to the world of Game Master Network.
TikTok In addition to her YouTube career, Zamolo has also made a significant impact on TikTok. With over 17.1 million followers, she is one of the most popular TikTok influencers in the world. Her videos feature her dancing and lip-syncing to popular songs, often incorporating her signature humor and creativity.
Personal life Zamolo was a competitive gymnast and track runner before she was diagnosed with ulcerative colitis. She had her colon and large intestine removed in 2014, and since then, she has been an advocate for those living with Inflammatory Bowel Disease (IBD). In 2017, she established the Rebecca Zamolo Colitis Foundation to provide support and resources to those living with IBD and their families.
In May 2014, Zamolo married Matt Yoakum, and in 2022, the couple welcomed their daughter, Zadie Hope Yoakum. They are known for their philanthropy and annually participate in the "12 Days of Christmas" event to raise funds and awareness for various charities, including St. Jude Children's Research Hospital, Alex's Lemonade Stand Foundation, and the National Eating Disorders Association.
Influence and impact Rebecca Zamolo has made a significant impact on the internet, captivating millions with her entertaining and engaging content. Her work on the Game Master Network series and the franchise has made her a household name, and her philanthropy and advocacy for those living with IBD have made her a respected voice in the online community.
In conclusion, Rebecca Zamolo is a dynamic and talented individual who has made a lasting impact on the internet. Through her content, philanthropy, and personal experiences, she has inspired millions and continues to spread positivity, creativity, and hope to her followers.
FAQs