Ed Sheeran was born on February 17, 1991, in Halewood, United Kingdom. His father, John Sheeran, is a lecturer at the local university and his mother, Imogen Lock, is an art curator. The 'Bad Habits' singer has two younger brothers named Matthew and Nicholas. Ed went to school at the Thomas Mills High School in Framlingham.

When he was eleven, Ed taught himself how to play guitar and started writing songs when he was fourteen. His first EP, 'The Orange Room', was released in 2005. Ed's debut album, '+', was released in 2011 and reached number one on the UK charts. His second album, 'x', was released in 2014 and debuted at number one on the US Billboard 200 chart. Ed has won numerous awards, including five Grammy Awards and four Brit Awards.

There is a lot to love about Ed Sheeran, so it's no wonder that fans want to reach out to him or even request an autograph through the mail (TTM). To help make that possible, the following addresses, emails, and phone numbers have been compiled in an effort to give Ed Sheeran's fans, known as 'Sheerios', the best and most up-to-date resources for contacting him directly or through his representatives.
Does Ed Sheeran Respond to Fan Mail?

Like many of the top celebrities that respond to fan mail, Ed Sheeran does have an established history of replying to his fans. Sheeran's fans have posted about his responses going back at least as far back as 2012. He is known to sign autographs for those that request it, particularly when fan mail is sent to him at venues that he'll be performing at. Additionally, he also is one of the many singers that sell signed albums. Ed Sheeran in particular has been known to sell signed CDs for as little as $0.99!  
Sending fan mail is incredibly easy. It just takes following a few simple steps. Still, some people may appreciate a little extra help when they are just starting to write fan mail. If that's the case for you, then check out this free fan mail template to get you going. 
Talent Agency [Address, Phone Number, & Contact Info]
Ed Sheeran is represented by Wasserman Music. Wasserman's main office is in the UK where Sheeran is based. Therefore, reaching out to Wasserman or other UK-based agencies is your best bet for getting a response from the world-renowned pop singer.
Talent Agent
Talent Agent Commercial
Talent Agent
One Fiinix Live
41 Great Portland Street
London, W1W 7LA
United Kingdom

One Fiinix Live Representatives:
Jon Ollier
Email: jon.ollier@onefiinix.com
Wasserman Music
1-3 Wenlock Road
London N1 7GH
United Kingdom

Wasserman Music Representatives:
Ash Lewis
Marty Diamond
Stephanie Miles
Paradigm Talent Agency
700 N San Vicente Blvd
Suite G820
West Hollywood, CA 90069
USA
Phone: +1 310 288 8000
Fax: +1 310 288 2000

Paradigm Representatives:
Scott Melrose
Write Ed Sheeran at His Next Concert
This idea might honestly be your best chance of contacting Ed Sheeran. Sending fan mail to singers at the venues they will be performing at is known as via venue fan mail. In fact, Ed has a proven track record of responding to fans this way.

Sending fan mail via venue is just a matter of having proper timing and doing a little bit of research. First, look at Sheeran's tour dates and find the address for where he will be performing with a quick Google search. Then simply send your letter about a week in advance so that it arrives ahead of the date that he will be performing. With any luck, management at the venue will pass on your letter!
Ed's Record Label [Address, Phone Number, & Contact Info]
Ed Sheeran is a world-renowned pop singer, songwriter, and musician. As such, he has a lot of agents and representatives that help him handle his business. Those include his managers at his record labels. It's perfectly acceptable to send fan mail to these businesses as they often have the ability to forward the fan mail they receive directly to their clients.
Additional Ways to Contact Ed Sheeran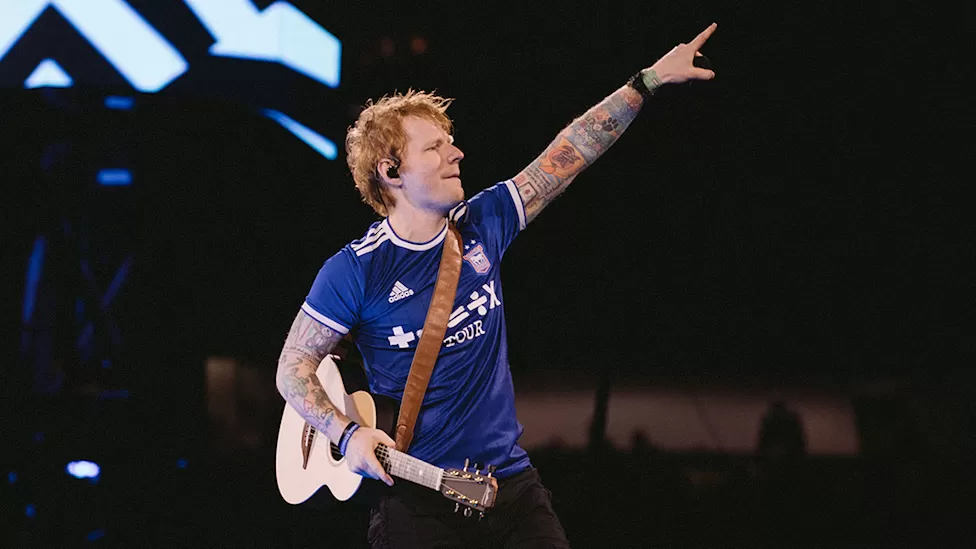 It's not uncommon for singers and celebrities to expand beyond the career that made them famous. Each new business started or charity founded presents new avenues to reach out and connect with the people involved with them. In the case of Ed Sheeran, he has close ties to Ipswich Town Football Club which he sponsors.
Club Sponsorship
Ed Sheeran's Record Label
Ipswich Town Football Club
Portman Road
Ipswich Suffolk, IP1 2DA
United Kingdom
Gingerbread Man Records
41 Great Portland Street
London
W1W 7LA
United Kingdom